Green Tree Golf Course is a regulation 18 hole, par 72, 5600 yard course
that is a challenge to the experienced as well as the novice golfer.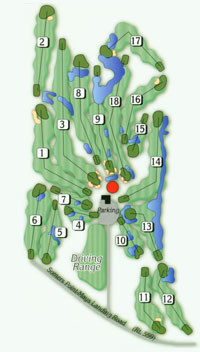 Please allow faster players to play through.
Please repair all ball marks and divots.
Play water on holes 13 and 14 as lateral hazards.
The Ranger has authority on the course.
All yardages are measured to the middle of the green.
For a hole-by-hole description click the numbers on the map.
LIGHTNING:    We will attempt to warn golfers when severe weather or lightning is in the area. One prolonged blast of the siren indicates those conditions. Discontinue play and seek shelter until two short blasts are sounded. This signal is a courtesy and does not guarantee that conditions are safe or unsafe. Golfers should not rely solely on the siren as an absolute notice to discontinue play. Use your eyes and ears, and seek shelter when you see lightening or hear thunder. Should you     observe lightning,discontinue play and notify Proshop personnel as soon as possible.