Leagues
– Tuesday AM League: This 18 hole ladies golf league meets on Tuesday mornings! If you are looking to join a group of ladies that love the game and have a good time together, then our Tuesday league is for you. We have a shotgun start at 8:00 am and often go to lunch after! Membership is $40. Our season runs from May through September. For more info, call the Pro Shop at 609-625-9131 or Carol Rott at 609-553-1498.
– Tuesday PM League: Tuesday afternoons 3:30 – 5:00 pm with most people coming after work for 9 holes of golf with special games and scrambles throughout the summer until we end in September. No set tee times, so there's plenty of flexibility and is a laid back league – great for beginners and busy ladies. Contact Greentreeladies@aol.com for more details.
– Wednesday AM League: B.L.E Ladies League. One of the oldest ladies Leagues in Atlantic Country. Open Membership – We welcome new golfers all the time. Come and join us on:
– Wednesday Mornings
– Starts in April and runs all summer with tournaments – open golf with awards every week
– Flighted Play – 4 Flights (18 Holers) 1 Flight (9Holers)
Contact: Gail Davis 609-513-6281
Sally Jerdan 609-226-6322
Nancy Meschter 609-927-3304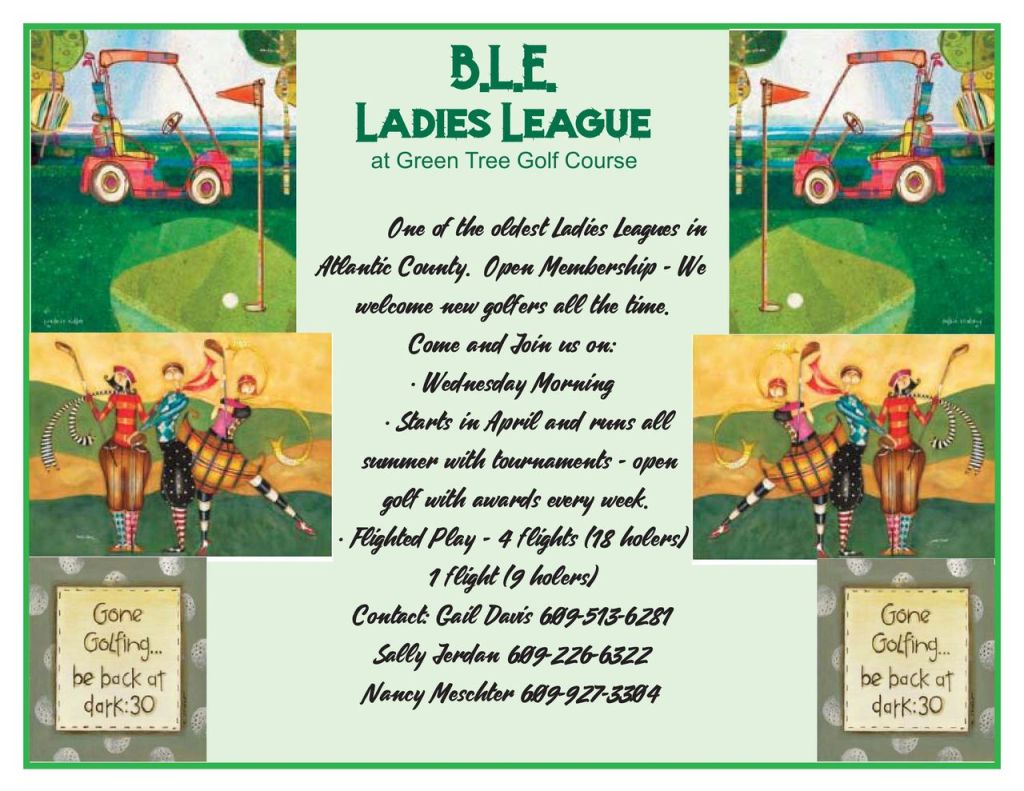 – Green Tree Weekend Men's League: Open to play for all gentlemen who want to enjoy a fun, competitive, and friendly round of golf. We play all year long, and our standing tee time changes with the season. Summer – 7:30am, Spring/Fall – 8:00am, and Winter – 8:30am (or based on temperature). Please arrive at least 15 minutes beforehand for proper instructions and group assignments. If you have any questions, you can call or email the golf course at (609) 625-9131 and ask for John Hammer or email hammer_john@aclink.org. You may also ask any of the executive board members below. 
Executive Board: 
Dave Demarest – President 609-425-5174 
Mark Nathan – Vice President 
Jim Snook – Board Member
– Wednesday Night Summer 9 Hole League: June 12th – September 11th
Tee Off – 5:30pm
Registration is 4:30pm to 5:30pm, and you may play practice holes or hit range balls before regular play begins.
$16 includes greens fees, cart, and range balls.
Optional dinner after play
Any questions you may have, you can call the golf course at (609) 625-9131 and ask for Matt Plunkett or John Hammer, PGA or email Plunkett_matt@aclink.org or hammer_john@aclink.org.